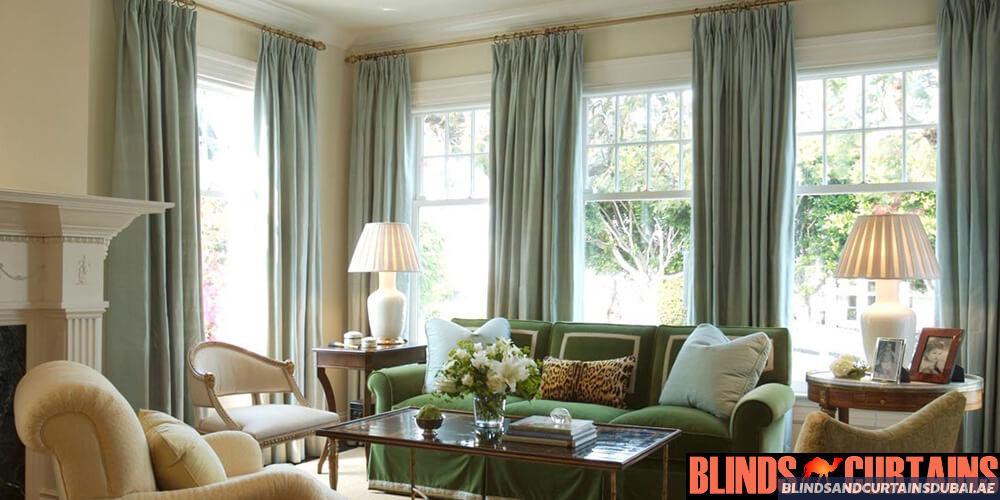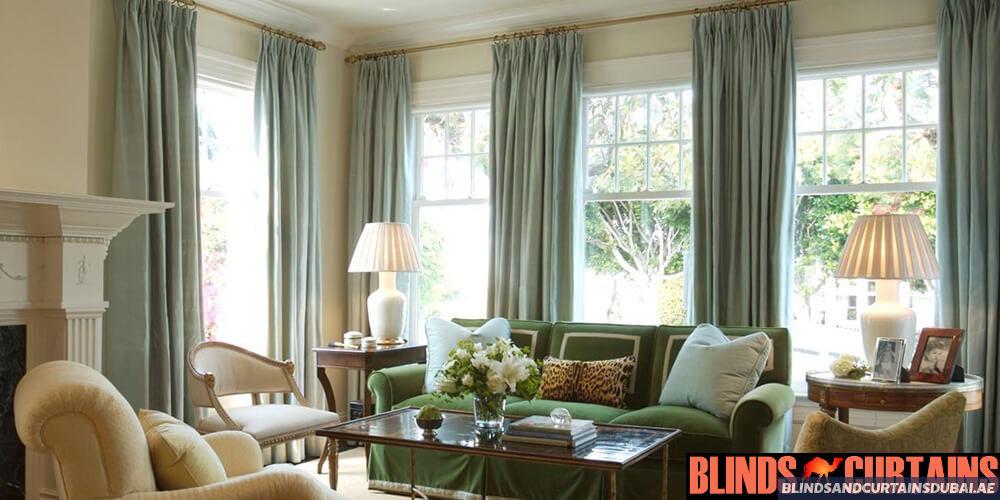 Delicate And Lively Living Room Curtains Dubai
Living room is considered as a major area of a home or apartment. Being the area for relaxing and socializing with friends and family, it needs to be maintained and decorated in a way that it represents the choice of the person living in the house. Living room must be comfortable, relaxing, safe, secure and cozy. Living room is quiet the first room while entering the house so it must be presentable and ambience must be great and appealing. Living Room Curtains contribute too much in adding the class and style to the interior and look of room. Living Room Curtains Dubai must match the furniture and wall color of the area and we at blinds and curtains Dubai offer great choice of vibrant color shades that are good to go with any kind of interior and furniture. While relaxing on the sofa and watching TV, sunlight distracts the view of the TV and our amazing quality curtains block the light out. Sunlight also helps furniture of the room from getting harmed and faded. Living Room Curtains Dubai are available in different and wide range of material, prints, patterns and designs. These prints and patterns makes the place look chic and stylish and enhances the appearance of the place and makes it look luxurious.
Single panel and double panel living room curtains are available. Customer could also order made to measure and buy living room curtains online. These custom made curtains will be made exactly as customer require. These curtains would be made considering the exact side of customers windows and as per their provided design and prints. Our custom made living room curtains gives you a wide choice to select your favorite pattern or design to print. You could also choose your choice of material for your living room curtains.
Material Choices For Living Room Curtains Dubai
Cotton
Silk
Linen
Velvet
Synthetic
Lace
York curtains
Technical Types Of Living Room Curtains
Motorized curtains
Blackout curtains
Manual curtains
Kinds of curtains
Panel Pair
Single Panel
Valance
Window Scarf
Liner
Living Room Curtains….. Comfortable For Your Space.
Living room is the heavy traffic area of your home which should be perfectly maintained and comfortable for everyone. We all know that first impression is the last impression. Commonly we use living room as a sitting area for our guests. Our best maintenance make them pleased and comfortable, so to maintain living room is quite important for home instead of any other area.
Blindsandcurtainsdubai.ae helps you to choose perfect Living Room Curtains for your living area. With our wide range of curtains, our customers can easily choose Living Room Curtains Dubai match to their furniture.
We proffer Durable and long lasting fabric in colorful and printed curtains in the entire region.
Curtains are the best thing to give unique makeover to the living area. Keeping in view the choices, we produce all sort of curtains fabric at blindsandcurtainsdubai.ae for our customers. For instance, cotton curtains, sheer curtains, blackout curtains, linen curtains etc. You can select these curtains up to your budget and need.