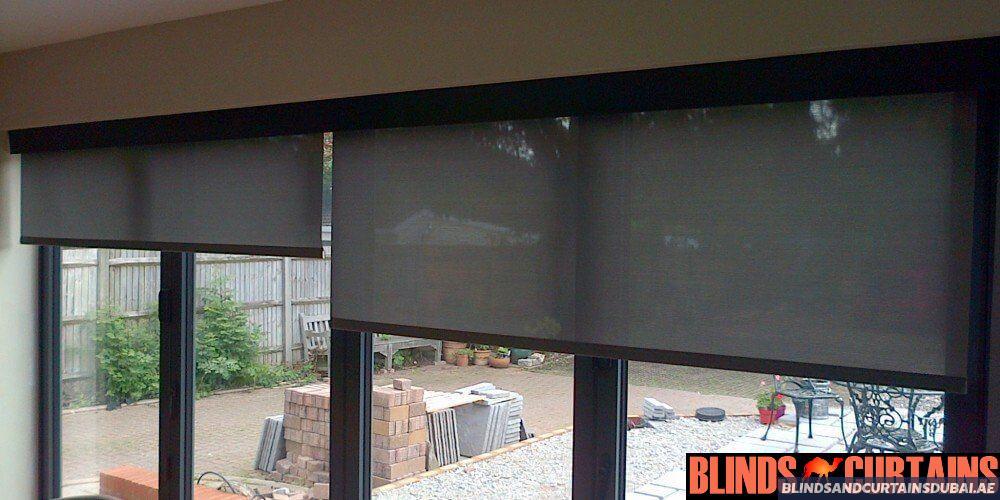 Blackout Roller Blinds in Dubai – Ultimate Choice for Windows
Blindsandcurtainsdubai.ae feels the pride to be ranked as one of the well-renowned and top-rated seller of blackout roller blinds and all across UAE. In order to cut out or reduce the light, our most popular blackout roller blinds prove to be the best with an additional benefit of absorbing heat that comes from sunlight. Our best blackout roller blinds work most in the situation when customers are willing to get rid of light and scorching heat from the sun. We ensure providing the elegant and decorative aspect through our beautifully printed and plain roller blinds. Our experts and well versed designers keep extra care of our customers. Hence, are always keen to provide them with high quality, durable, and nicely designed black out roller blinds at an affordable price.
Having an edge, our motivated designers and fitters offer blackout roller blinds made to measure as well. Believing that those ready to make blind of standard sizes sometimes do not fit the area properly, as a result we make sure that we have the blinds customized. The passionate team that we have has enriched our e-stores with thousands of blinds according to the usage and customer specifications. Quality is the top responsibility of Blindsandcurtainsdubai.ae and this is why we are leading the industry in the field.
Features of Our Blackout Roller Blinds
We own the following features for our blackout roller blinds which not only provides peace of mind but, work as a window ornament as well;
Our blackout roller blinds are available in horizontal and verticals slats. Vertical slats usually work as the doors to separate the room while horizontal slats are commonly used for small windows. A cord is tied at the end, which is easily adjustable and slats can be easily open and gets closed.
Blackout roller blinds Dubai are available with environment-friendly attribute. The wood we use for our blinds have intense capacity to absorb heat. Due to the moisture issue at various places, we offer high quality plastic slats as well for our customers.
When it comes to the life of our blackout roller blinds made to measure, our dedicated team provides all existing and potential clients with long lasting material. Irrespective of wood and plastic slats of blinds, both are manufactured in a cost effective manner.
Our customers can easily move our blinds to other places due to its portability and light weight feature. We are proud to have fitters who are skilled enough to properly screw the panels of blinds so they can easily be transferred when required.
Why Choose Us ?
Blackout roller blinds is the top most choice of the customers due to the use of different durable materials, various colors and designs. Blindsandcurtainsdubai.ae has introduced wooden, plastic, metallic, and paper slats according to the atmosphere of the place. Our low cost fitting of blinds and after sales service makes us prominent from other suppliers. We feel honored to provide long-lasting best Blackout roller blinds to the valuable customers at our online stores.