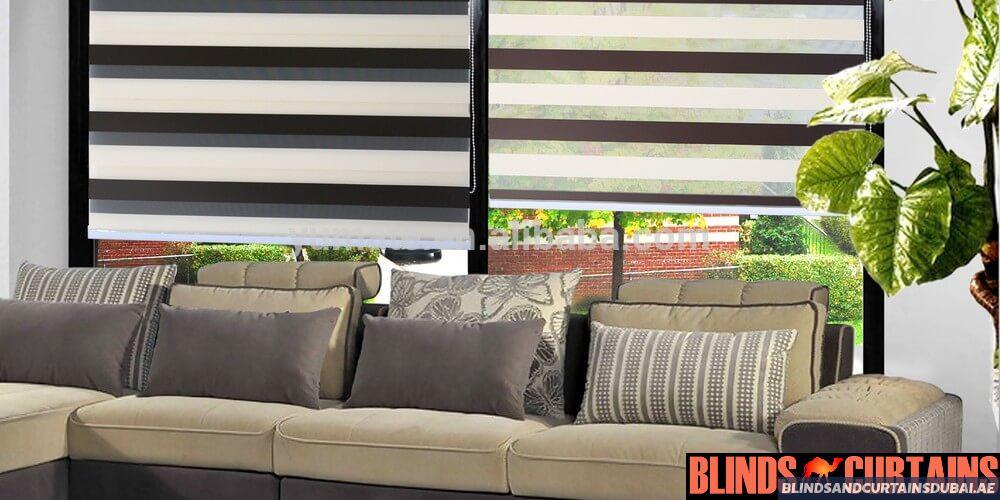 Zebra Blinds Dubai – The Trendy Pick
One of the biggest trends in window treatments right now that has created a hype in the industry is the Zebra Blinds. So Zebra Shades are a combination of a standard blind and a roller shades. Also called as the layered, blended or dual blinds, this innovative window treatment offers the light control of the blind as well as the soft beauty of the fabric roller shade.
Zebra Blinds Dubai With Extremely Benefit
blindsandcurtainsdubai.ae brings you the finest quality Zebra Blinds dubai with extremely benefit features you could cherish.
Zebra Blinds Dubai are extremely veritable and can fit in any style home. They are known to be transitional, that is they work with the contemporary designs as well as the traditional ones and along the midway between them too. Like a roller blind, Zebra Blinds Dubai offer clean lines that perfectly fit with modern or contemporary settings but can also go with the traditional décor due to their soft sheer fabrics.
Zebra Blinds Dubai feature a combination of sheer and solid fabric in a single blind. Much like the opening and closing the slats of a blind, layered Zebra Blinds control light by alternating the bands. You can also raise the shades completely into their cassette valance and have a full view to the outside with no restrictions in the window. And if you require privacy or darkness in the area, close the Zebra Blinds Dubai vanes completely. With Zebra Blinds room darkening fabrics are also available, perfect for bedrooms and media rooms.
Do you experience difficulty in reaching windows or large window opening? Well blindsandcurtainsdubai.ae brings you the motorized version of Zebra Blinds Dubai, that allows you to operate your blinds from virtually anywhere in your home. You can operate your Zebra Blinds individually or simultaneously saving time and the hassle created by the process and is kind of an attracting feature when entertaining your guests.
Blindsandcurtainsdubai.ae offers Zebra Blinds Dubai with a wide variety of versatility design, durable fabric options, decent theme and pattern along with different colors and textures. You can be bold with bright colors or can stay with the neutrals. You can choose light filtering to room darkening types to customize according to the requisite of your room. Fabric for Zebra Blinds are also available in geometric designs too.
Zebra Blinds Available In Every Style And Protect Floor
Your window treatment should complement your interior décor; it would be odd if it doesn't do so. Zebra Blinds by blindsandcurtainsdubai.ae are available for almost every styles, types and shapes of windows.
Zebra blinds functions well when it comes to protecting your indoor furniture and floor from the harsh sunlight. Zebra blinds Dubai when closed blocks out maximum ultra-violet rays preventing the damage caused by the harmful sun rays. This is a benefit you can ultimately enjoy once you install the right window treatment as of the zebra blinds Dubai.
We provide our customers with competitive and flexible prices and welcome our customers for single and bulk orders